Banner Elk is a scenic mountain town nestled in Western North Carolina, with a population that hovers just north of 1,000 full time residents. But don't let this small mountain town fool you! Some of the best restaurants and fine dining can be had, right here in Banner Elk. In this post, we'll highlight some of our favorite fine dining established located in and around Banner Elk. Hope you brought your appetite!
Best Fine Dining In Banner Elk, North Carolina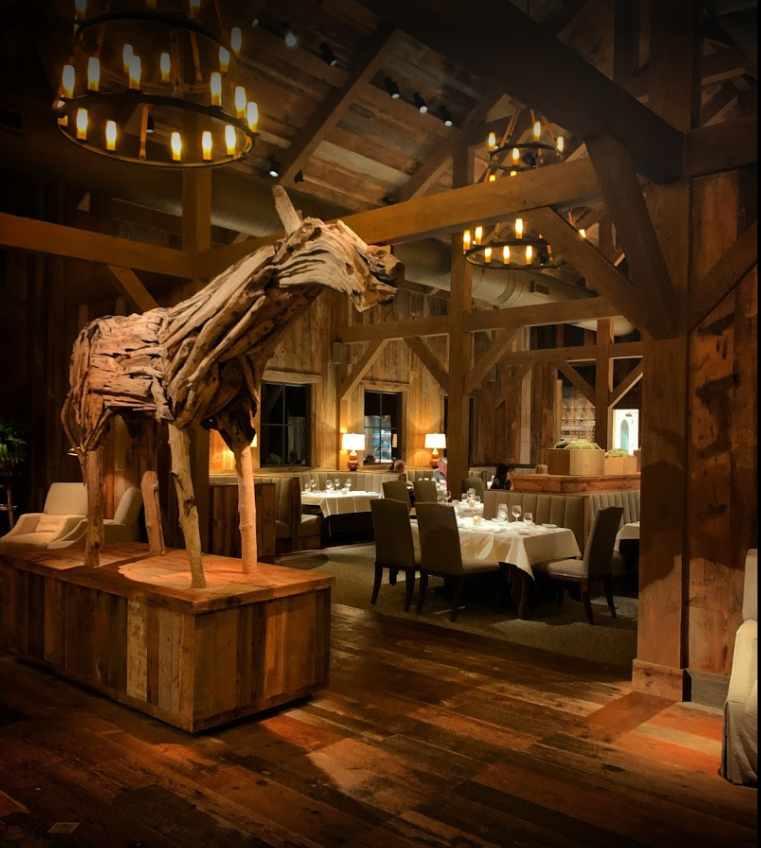 Artisinal
Routinely considered and ranked among the best restaurants in Banner Elk, Artisinal has been named a Top 100 Restaurant in the entire United States by Open Table! Artisanal is an upscale, fully farm to table restaurant. It can be found down a little country road, off the main drag a ways. Arriving at Artisanal you're greeted with stunning farmland! The restaurant itself is rustic, yet elegant. The exterior looks like a beautifully aged, old barn; even though the building itself is relatively new! The interior features high beamed wood ceilings, wooden horses, white tablecloths, an exquisite bar, and an incredible open kitchen. During the warmer months, guests can choose to sit outside on the patio located next to a babbling brook. The menu at Artisanal varies throughout the year as the food is locally sourced from surrounding farms. The wine list is extensive and interesting! Pro tip: during your visit, be sure to step downstairs into their wine cellar (as long as there's not a private event happening). Artisanal is open from May through the end of October, Tuesday through Sunday. As you might have guessed, reservations are required…and should be made well in advance of your visit. Guests are asked to dress in business casual attire; no jeans, t-shirts, or tank-tops please!
Stonewalls
For the best steak in town, make your way to Stonewalls. Stonewalls has been in operation in Banner Elk since 1985. They serve the highest quality steaks, prime rib, and more. To top it all off, guests receive first-class service with a tab that won't break the bank. For those less keen on steak, Stonewalls offers some of the best fresh fish, savory soups, escargot, a huge salad bar, ribs, chicken, and pasta. Stonewalls is open for dinner, each day from 5 until 9pm. Reservations are encouraged, but not required. The attire for Stonewalls is considered upscale casual…meaning jeans are okay!
Louisiana Purchase
Louisiana Purchase, recently rebranded as LP on Main, has been in business for 34 years in Banner Elk! LP on Main features Cajun and Creole cuisine, as well as fresh seafood. On top of their excellent offerings of New Orleans style food, LP on Main has won Wine Spectator's Award of Excellence for many years. LP on Main has recently moved into their brand new location on Main Street in downtown Banner Elk. The new location is simple, elegant, crisp, and the bar is to die for! Also at their new location, they can offer outdoor seating thanks to a wrap-around deck. Louisiana Purchase is open for dinner Tuesdays through Saturdays year round. Reservations are not necessary, but encouraged so as not to wait upon arrival. Dress code is business casual. Laissez le bon temps rouler!
Over Yonder
A short 15 minute drive from Banner Elk is the quaint mountain town of Valle Crucis. Here you'll find a great restaurant called Over Yonder. It is located across the street from the original Mast General Store on Highway 194. Over Yonder is in a historic house that overlooks the picturesque hills of Valle Crucis. The menu here is farm to table, featuring locally sourced food, fresh veggies, and high quality meats and cheeses. Every menu item is made from scratch. The menu changes relatively frequently, but at any given time guests can find items such as Frog Legs, meatloaf, shrimp & grits, and butterscotch banana pudding to enjoy. Over Yonder is open for lunch and dinner 6 days a week (closed on Tuesdays). Reservations are recommended, and dress code is business casual.
The Kitchen at Little Pond Farm
Also located in Valle Crucis, the Kitchen at Little Pond Farm is truly a culinary and dining experience. Each night a professional chef prepares a 4 course meal for no more than 10 people (hint: reservations are most definitely required well in advance). The Kitchen uses only the best and most fresh ingredients for all of their meals. The goal of these meals is to nurture and nourish friends and family gathered around the cheerful table. Meals are $115 per person, and includes bottomless wine. Be sure to check the schedule as the menu changes daily based on what is available and which Chef is preparing the four courses.
Elk River Club: Luxury Real Estate in Banner Elk
Elk River Club in Banner Elk is the source for luxury mountain homes in the High Country. Located in Banner Elk, featuring a private airport, first-class amenities, a Jack Nicklaus Golf Course, and a best in state Equestrian Center, Elk River Club is the private gated community for those who want to enjoy country living without sacrificing the comforts of which they've grown accustomed.
To learn more about becoming a resident of Elk River Club, contact our Elk River Realty team today.