There are many benefits to living in a community that has a private airstrip. Communities that are home to a private airport cater to a particular type of person; those that love to fly and/or those that can afford to fly private. Exclusive private gated communities in the mountains, such as Elk River Club, offer their residents the ease of access by having a start-of-the-art jetport, just one of the many reasons people decide to live in Elk River. In this post, we'll cover the benefits of living in a Fly-In Community.
Benefits of Living in a Fly-In Community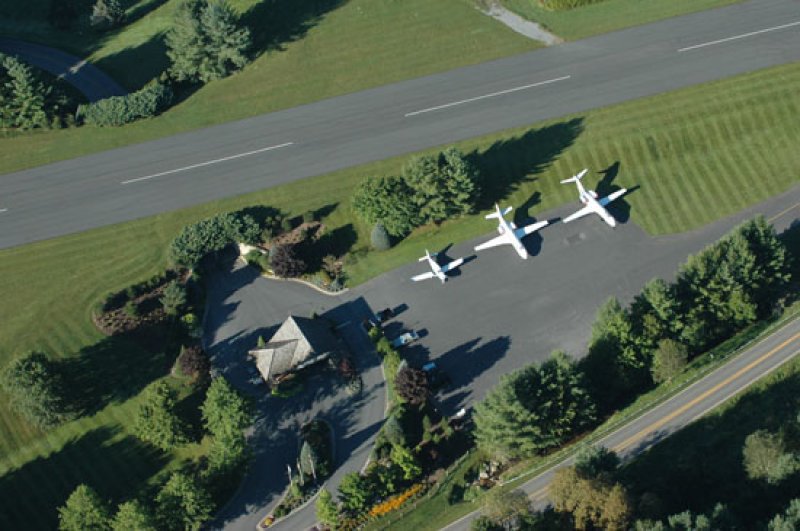 Ease and Frequency of Flying
By far the number one benefit of living in a fly-in community is the ease and frequency at which plane owners can fly. For residents that commute to nearby metropolitan areas, they are able to save time by living in a residential airpark because they can fly to work. For those that have retired and simply enjoy the joys of flying their own plane, or prefer to fly privately, nothing beats the ease of access to pulling onto the runway and taking off at your leisure. Have a private airstrip nearby eliminates barriers or excuses that prevent aviation lovers from enjoying flying. Instead residents of a fly-in community are able to experience their passion just about any time they prefer!
Scenic and Remote Accessibility
A potential barrier to people buying a home in Banner Elk, or the mountains of North Carolina, is that it's not always easy to get to by traditional transportation. Many residents choose to live in Elk River Club because of the natural beauty afforded by the surrounding Blue Ridge Mountains. Our residents enjoy the peaceful, seclusion of mountain life, while still having access to all the comforts they would find in larger cities.  Were Elk River not to have our airstrip, we would not be able to cater to as many residents as we do who come from around the country. Having a private jetport for residents allows our members to easily escape the hustle and bustle of city live for the serene, natural beauty of Banner Elk, North Carolina.
Social Benefits
Living among other pilots, or fellow aviation enthusiasts will be one of the most rewarding experiences of your life. Because fly-in communities, like Elk River, cater to a certain sector of the population, residents can expect other top tier amenities in addition to the jetport. For example, Elk River is home to the first golf course designed by Jack Nicklaus in North Carolina. Other benefits residents of Elk River can expect to find on site are our state-of-the-art Saddle Club, the premiere equestrian facility in North Carolina, multiple tennis and pickleball courts, and a beautiful fitness facility. Outside of the gated community, residents are treated to literally hundreds of outdoor activities in Banner Elk, Linville, Boone, and Blowing Rock. It is no wonder residents from all over the country choose Elk River for a second home because of our private airstrip.
Elk River Club: Private Gated Community in Banner Elk, North Carolina
Elk River Club, in Banner Elk, North Carolina is a private mountain community catering to people who appreciate the finer things in life. We offer state-of-the-art amenities such as The Saddle Club, Jack Nicklaus Golf, a private Country Club, tennis and fitness facilities. But arguably what draws prospective residents from all over the county is our private airstrip. Residents are able to fly into Elk River from anywhere in the country and be in the mountains enjoying the natural beauty of the Blue Ridge Mountains. If you are looking to buy a home in Banner Elk, then look no further. Contact our team of Banner Elk real estate experts today!